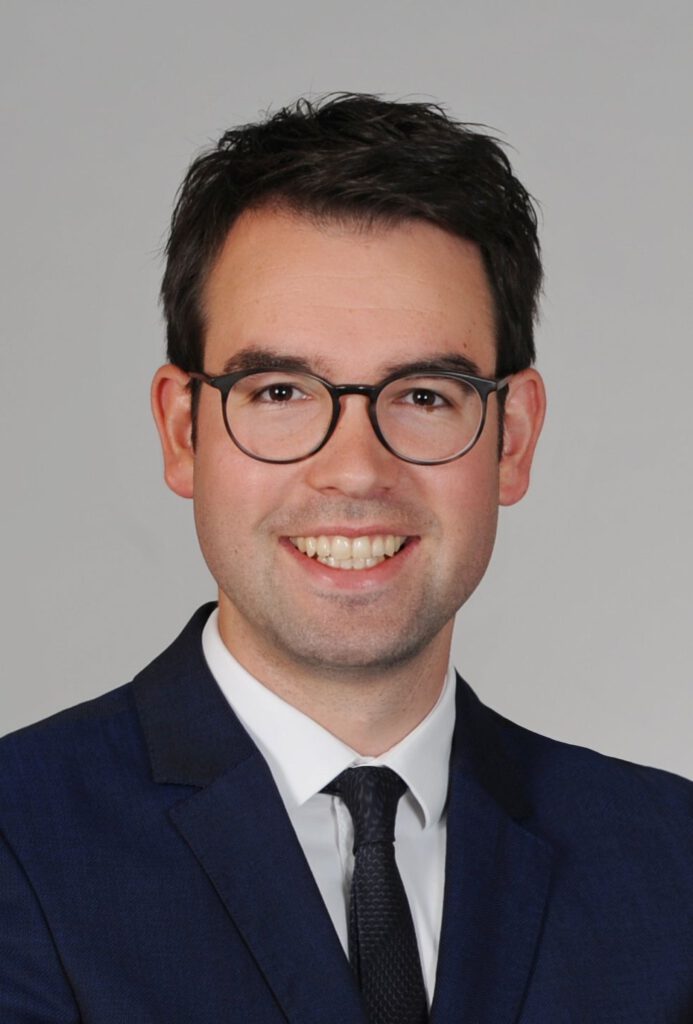 About Patrick Tetenborg.
Dr. Tetenborg is the co-founder of Jansen + Tetenborg – Vibration and Pulsation Consulting.
Already after graduating from high school in 2007, he discovered his passion for dynamic issues on various types of machines and plants during a dual study program. He realized early on that the subject area around vibrations, pulsations and general acoustics always offers new challenges. As a consulting engineer, the smooth transition between structural-dynamic and acoustic phenomena challenges him to think in ever new ways when finding solutions to machine and plant problems.
His fascination with this subject area also led him to complete his doctorate on the topic of "Development of an adaptive and passive pulsation damping device" in 2017 at the chair of fluidics at the Technical University Dortmund under Prof. Dr.-Ing. Andreas Brümmer. This is just one example of the technological potentials that can lead to an improvement of processes and products when fluid acoustic effects and structural dynamic properties are exploited on a smart way.
In addition to his doctorate, he was already working as a measurement engineer in a leading German engineering company for sound and vibration problems. Immediately after his PhD, he initially worked as a project manager and shortly thereafter became the head of the machine dynamics department in 2019.
During this time, he was responsible for handling complex customer projects worldwide. In addition to the valued technical expertise, intensive customer communication with open and interactive exchange is essential in the joint development of problem solutions. The last 15 years have shown him that a structured and methodical approach involving all decision makers is essential for solving complex problems.
We are excited to see what challenges upcoming projects will bring and look forward to future tasks related to compressor, pump, turbine and other production plants
Our goal is to reduce dynamic loads to a minimum. This is the only way to keep plant availability, reliability and safety at a maximum level.

Patrick Tetenborg
Publications.
The ability to convey technical facts in a clear, understandable, but also vivid and interesting way should be one of the core competencies of every consulting engineer. Dr. Tetenborg does this with great passion and commitment. Below you will find an excerpt of his publications.
Numerische Untersuchung pulsierender Strömungen in Wirkdruckmesseinrichtungen am Beispiel einer Blende
Tetenborg, P.; Brümmer, A. in: gwf-Gas/Erdgas, S. 376 – 383, 7-8/2014
Adaptive und passive Pulsationsdämpfung – theoretische Voruntersuchungen
Tetenborg, P.; Brümmer, A. in: 19. Workshop Kolbenverdichter 2015, S. 303 – 328, Rheine, 2015
Development of a new adaptive pulsation damping device without external energy supply
Tetenborg, P.; Brümmer, A. in: 3rd International Rotating Equipment Conference (IREC) Pumps, Compressors and Vacuum Technology, 10th EFRC Conference, 46-2, S. 353 – 366, Düsseldorf, 2016
"Magic Tube" – Ein neues variables Tilgerkonzept
Tetenborg, P. in: ERDÖL ERDGAS KOHLE 133, S. 83 – 87, Jg. 2017, Heft 2
Pipeline Vibrations – Measurements Under Difficult Conditions
Tetenborg, P. in: 13th Pipeline Technology Conference 2018, Berlin, 2018
Ungewöhnliche Schwingungen in einer GDRM-Station während des Teillastbetriebes
Tetenborg, P.; Lenz, J. in: gwf Gas + Energie, S. 50 – 55, 7-8/2018
New adjustable vibration absorber – First application on site
Tetenborg, P.; Lenz, J. in: 11th EFRC Conference 2018, Madrid, Spain, 2018
Successful vibration analysis on a 200 MW pump turbine
Tetenborg, P; Lenz, J. in: 20th International Seminar on Hydropower Plants, Vienna – Austria, 2018
Improved plant reliability due to acoustical and vibrational optimisation
Tetenborg, P; Lenz, J. in: 12th EFRC Conference, Warsaw, Poland, 2021
KÖTTER Solutions – Increasing the reliability of LDPE-plants
Tetenborg, P; Lenz, J. in: 15th LDPE Plant Improvement Conference 2021, Königstein, Germany
Education.
BA Emsland (today: Hochschule Osnabrück), Lingen, Germany
Industrial Engineer, Bachelor of Science, 2010
TU Dortmund, Dortmund, Germany
Mechanical engineer, Master of Science, 2013
TU Dortmund, Dortmund, Germany
PhD-Thesis "Development of an adaptive and passive pulsation damping device", Dr.-Ing., 2017